Article: Roadhogs - A Community Service By Redi Internet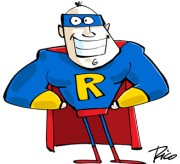 Roadhogs - A Community Service By Redi Internet
Redi Internet have developed Roadhogs.co.za as a free public service to you.

Are you tired of bad drivers on the road ?
Are you always stressed out on the road ?
Do you get really mad on the road ?
Do you feel like changing this ?
Roadhogs is the place to go to vent your anger online instead of on the roads.

We have put this site together to allow you to have your say without risking your life on the roads, although it is a fun site, it is at the same time serious. Road Rage and bad driving kill people, so lets name and shame these bastards and hopefully get them off our roads, or raise awareness of the problem we face daily - while having some fun of course :-)
Roadhogs was established in 2000 and has been running ever since. The initial intention was to produce a website that was a fun way to name and shame bad drivers, but over the years, the site has become a very well known way to bring awareness to a huge problem we have on our roads.

South Africans are very short-tempered generally, and have a great deal of stress to live with on a daily basis. The commute to work and back takes it's toll and drivers often take out their frustrations on the road. They speed, they are ignorant of other drivers and pedestrians, they do not obey the rules of the road, and continually use mobile phones while driving - all of this contributes to a lot of carnage and death on our roads.

The unfortunate thing is that most drivers are courteous, and well mannered on the roads and this causes a lot of stress for those drivers, and thus often leads to Road Rage in many forms, thus raising stress levels even further.

So, why not take out your frustrations online instead of on the roads, report the bad drivers 100% anonymously and for FREE in the safety and comfort of your home or office. Take photos, upload the pictures, name and shame them, in fact say whatever you want to get the stress off your shoulders... you are not only getting rid of your stress, but making others aware of these drivers, and most importantly have a bit of fun doing it.

http://www.roadhogs.co.za