Custom Development & Mobile Apps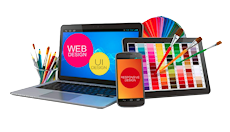 Choosing the right partner for your Mobile Application Development is the key to a successful system.

Mobile applications have become more important to consumers than ever before - they have become an every day part of life for millions of smart phone users. It is therefore crucial for businesses who are considering creating mobile apps to work with a company that builds mobile apps that are:
User friendly
Interactive and intuitive
Utilising the latest designs
Giving an awesome user experience
How Can We Help ?
If you're planning to establish a mobile presence for your business or organisation, one of the first considerations that will likely come to mind is whether you want to create a mobile application for users to download (app) or a mobile website, or perhaps both.

Mobile websites and apps can look very similar at first-glance, and determining which is most suited to your needs will depend upon a number of factors, including target audience, available budget, intended purpose and required features.
We can do either for you, just ask us.
What our clients say
We have been with Redi Internet for 5 years now and we have always had excellent service. They took an idea that I had in my head and managed to design the exact website that I needed (other providers we had approached were unable to visualise what we needed). Always quick to respond and assist with an issue and we would recommend them to anyone. - Brenda @ Ancestry South Africa